Vincent:  You and your band were quite the hit!  Once we have our date secured for next year, I will give you a call.  Thanks so much!  Alice Brobisch Philanthropy Director St. Andrew's Charitable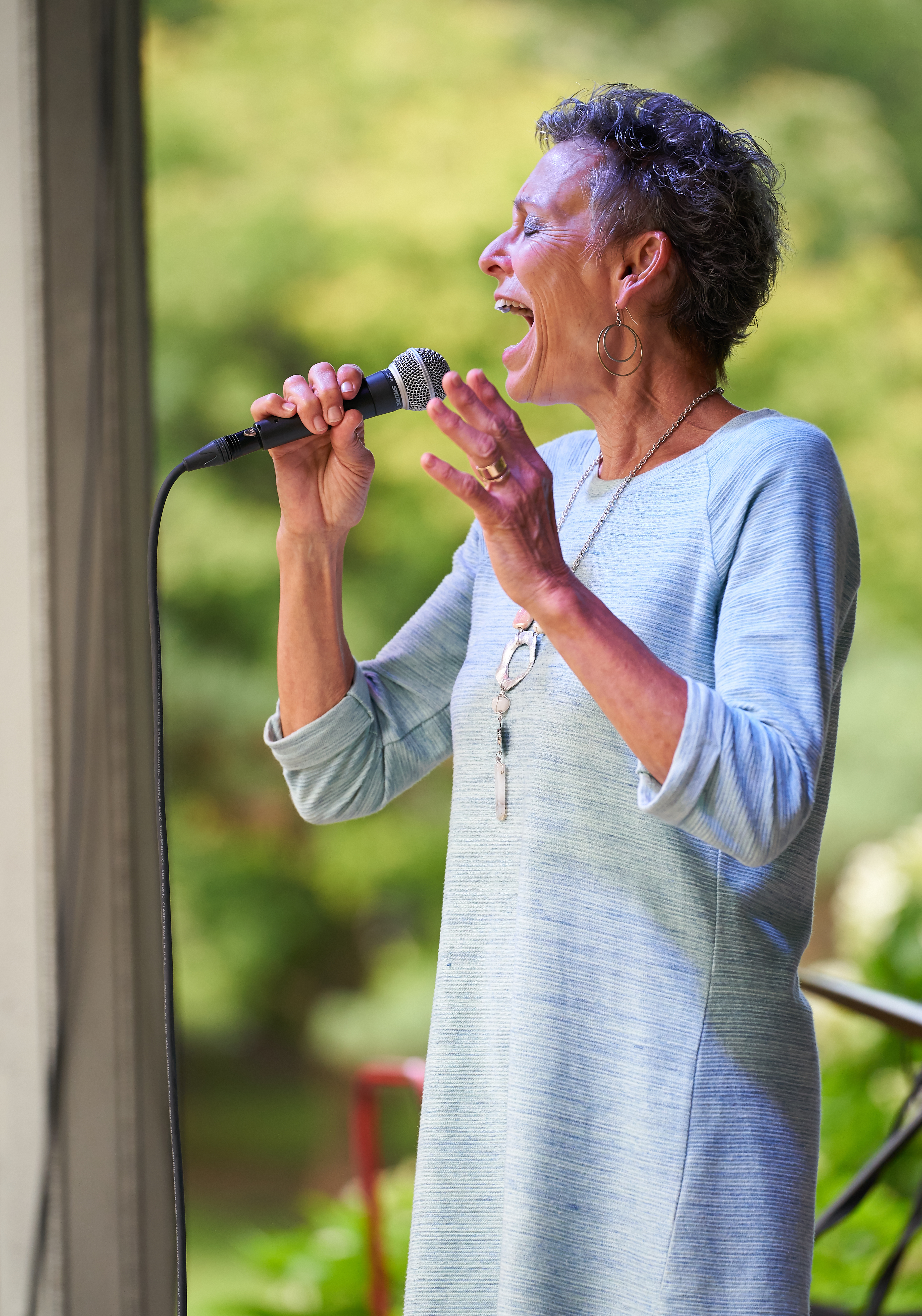 Vincent as I said last night, absolutely everybody thought you guys were wonderful.  And obviously so do I.  I appreciate everything and I hope to work with you guys again in the future.  Sarah Aydt
Fanfare-"This high energy performance kept our students excited and engaged.  Exposing them to popular music, from the past provided history and had them dancing in their seats.  Students and teachers want to know when Fanfare is coming back.  There is nothing like seeing students and teachers singing and dancing together with smiles on their faces.  Most definitely one of the best all school performance groups in St. Louis!" Thanks again for a great experience.  The students and staff love having you all here at Claymont.  Kim Cowell Music teacher Claymont Elementary.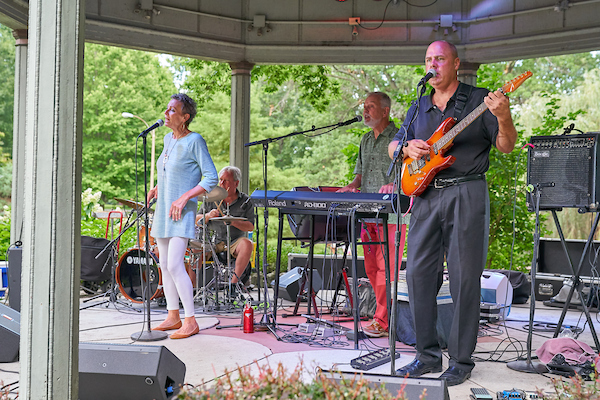 Sacred Heart Catholic School Florissant MO-Vincent Thank you so much for the fun performance. Everyone really enjoyed it. Gratefully Lois Vollmer Principal
Fanfare!   Wanted to send an e-mail to let you know how much the staff and students enjoyed your show.  It was upbeat music!.  Loved the part where you got Dr. Schmidt and I to Polka to the Beer Barrell Polka and the students to dance to the Duck Dance.  Thanks for visiting Sullivan! Hope to hear you again sometime.  Tanya Voss Ed.D.  Assistant Superintendent of Student Services. Sullivan School District   Sullivan MO
Fanfareband performed on a delightful April evening in the outdoor pavilion at Belmont Vineyard in Leasburg Missouri.  Dining at sunset, the group performed a wonderfull melange of musical genres, and was very well-received by all in attendance, with much singing- along and dancing.  Earlier in the day, they played at the high school theatre to an enthusiastic crowd of students.  The Sullivan Area Arts Council was thrilled with their performance and highly recommends them to others. Thanks again. Debbie Depew Suillivan Arts Council 4-22-2016
"Fanfare performs every year for our entire school.  They always provide a wonderfully educational, engaging, and fun performance for our students and staff.  Everyone lookd forward to them coming back again and again."    Kelly Schokmiller. Principal St. Gabriel the Archangel School
The Greater Belleville Chamber of Commerce was treated to the wonderful sounds of Fanfare at its 32nd Annual Chili Cook-off on the square in downtown Belleville.  What a great band to start the weekend event as the energy level of the group along with its terrific selection of music made for a wonderful afternoon. John Lengerman Executive Director Greater Belleville Chamber of Commerce October 2, 2015 
Bushnell, IL Fall Festival 8-27-2015  Thank you for a great concert last night at the Bushnell, IL Fall Fest.  Although the evening got a little cool, Fanfare kept things rolling with their fantastic mix of music.  I'm old enough to appreciate the "big band sound" but also young enough to dig Bruno Mars' "Uptown Funk!"  I would definitely come see you again if you're in my area.  Keep up the good work.  There aren't enough bands around like Fanfare !
WONDERFUL CONCERT!  We would most definitely love to have Fanfare back with us in 2016.  Melissa Cummins Marketing and Community Relations Manager  Mark Twain Boyhood Home and Museum Hannibal MO 7-23-2015
Doug Landholt father of the brides(double wedding reception) 6-13-2015  We were thrilled to have Fanfare play!  We heard wonderful comments from many guests who agree "DJ" is a bad word. Wedding Reception Crown Plaza Hotel Clayton, MO
Review From The Knot Written by the bride Molly Landholt 7-1-2015 Vince, Kittie and the rest of the band are awesome!They definitely keep up with the latest hits to perform live for your wedding, and they also bring out classics like jazz, oldies, and wedding standards(polka, duck dance, etc.)  We loved the variety!  I also was impressed that the band provided dinner music, as well.  It certainly heightened the mood!  Furthermore, they went out of their way to learn special songs that we had requested, especially for the first dance and father-daughter/mother-son dances.  Vincent was direct about when they would need to take breaks and hooked up the iPod to keep the music going, but the iPod had a great selection, as well, and the party didn't stop!  This band made our reception something very special!
St. Louis Magazine Food Event Fundraiser 6-4-2015 Thank you! You guys were a crowd favorite and perfectly suited for our event. Best, Leslie Tunney Publisher St. Louis Magazine
Variety Club After Dinner Party and Dance Peabody Opera House 4-25-15. "THANK YOU!.  We loved having you out again and you were a huge smash with our guests. Justin Leibrecht/Event Coordinator Variety the Children's Charity of St. Louis.
WeddingWire.com  Fanfare Wedding Reception Review April 2015   Brittany said…     These guys are awesome!  Our guests adored the live music, and the band was super energetic and responsive to our guest.  I would highly recommend them and they were really easy to work with.   Wedding:04/18/2015
Metter Park Concert 7-6-14  Finding a band that truly appeals to all ages is not an easy task, but Fanfare fits the bill perfectly.  I received nothing but positive comments about the lively selection of music, Kittie's perfect pitch on each and every song, intermingled with the bands humor–making this a truly memorable event.  Fanfare has earned a spot as a regular at our future Music at Metter concert series.   Jackie Hausmann-Event Coordinator City of Columbia, IL
7-4-14 Kirkwood Park Kirkwood MO July 4th Concert & Fireworks with over 20,000 people.  We always enjoy having Fanfare play here in Kirkwood.  The range of musical styles they are able to perform is great and they always seem to interact well with their crowds.  Murray Pounds Parks and Recreation Director Kirkwood MO
Good Show Vincent.  We'll definitely have you back next year.  Chris White Recreation Supervisor City of Lake Saint Louis 5-17-2014
Vincent  sounded great over the weekend.  I heard a good amount of kudos from customers about the band. Best Trevor    Chandler Hill Vineyards 5-11-14
Hi, Vincent Everyone really enjoyed the band. Thanks so much for your performance.  Jan Albus/CEO Variety the Children's Charity of St. Louis 5-3-14
Fanfare knocked it out of the park!  I'll come back in the fall just to listen to the crystal voice of their lead singer.  Artist Member Indie Craft Fair 4-27-14
Vincent, Your band was amazing.  You made our daughter's wedding reception a fantastic party.  The music entertained all our guest, ages 14-95. Thanks so much Beth & Gary Musholt Quincy Country Club 4-26-14
Hello Vincent,  The International club members and sponsors and I would like to thank you so much for the fantastic and beautiful music you play for us at our International Festival here at Meramec Community College.  You really helped us celebrate with class, our 25th year of this event.  Again thanks and I hope to have you at some future events at our college.  Marco Romero, Communications Department St. Louis Community College-Meramec.  April 5, 2014
Vincent it was a pleasure working with you and the entire band. I also very much appreciated your flexibility for the set up.  It sounded great in both the meeting room and the final party.  I heard nothing but positive comments from everyone involved and I look forward to the next one!  Alan Kroske Maritz Travel (3-22-14)
I wanted to thank you for an outstanding performance in Austin, TX.  Some of my most important customers attended this private party, and the comments were all positive.  Kittie's vocals were awesome; Dawn on the horns provided a depth to the sound; Jim and Lanny showed the breadth of their experience on drums and guitar; and you keyboard magic brought it all together.  Two non stop hours of great dance tunes kept the crowd engaged.  I can't wait for the next time.  Rick LaBelle General Motors Parts Division 3-25-14
Dear Fanfare!  Thank you so much for coming to our school today.  Our students and staff had a wonderful time singing and dancing with the band.  It was such a positive way to start the day; teachers and students were able to groove to the music.  Teachers were able to relive their love of the "oldies" and participate in showing their students that music of the past played a huge role in the music of today and tomorrow.  3-27-14     Sandra Castaldi Academic Instructional Coach Stix ECC St. Louis, MO School District
St. Pat's After Parade Party 3-15-2014  "You all sounded great."  Dennis Reagan/President & CEO The Muny in Forest Park St. Louis MO
Thank you so much for coming today. It was such a wonderful concert.  All I heard were positive comments.  thanks again for taking the time and coming all the way out to Warrenton today.  May you all be blessed.
Flavia
"You all were fantastic and a great team of spirits.  I really enjoyed meeting all of you.  Please let your wife know that her voice is amazing!  In fact, several of the folks there told me that you were the best band of the season.
                   Cindy DuBois     St. Peter's MO Community & Arts Center
"Vincent I had a lot of good feedback.  Let's see what I can work out next year-thanks!!!                            Jackie Hausmann   City of Columbia IL
"I thought your band did an awesome job.  I will keep you in mind for future dates."                                                   

              Robin Peirick   Washington MO Parks and Recreation Coordinator
"Thanks Vincent!  I have heard nothing but positive feedback from the residents.  Thanks for a great event!"
             Kristin Christenson  eureka MO Parks and Recreation Coordinator
"Everyone told me it was a fantastic show.  Thank you so much."
                   Robin Rogers  Rt. 66 Summerfest Roll MO
"You guys really made it a party.  We got a ton of comments about how great everyone thought you were and "where did we get you???" so-I will email your information out to everyone who asks."
     Annalee(Mother of the bride)  Wedding Rehearsal Dinner & Cocktail Party
"Rave reviews for the band from everyone who attended yesterday!  I hope you are available for our casino night in October."
       Denise Niemann   The Brentmoor Retiremwnt Center St. Louis, MO
                              FANFARE SCHOOL PROGRAM TESTIMONIALS
Vincent,
Fanfare's performance at our school was outstanding.  I found it to be very informative and entertaining.  The audience participation was a big hit with the students and faculty who came away with many positive comments.  Thanks so much for bringing your talents to our school and we hope to have you back in the future.  Please convey our appreciation to the other members of your band. 
Mark Hasenstab  Our Lady of Sorrows School
Vince,
Just a note to say how wonderful your performance was last Thursday!  The students and faculty at Oak Hill loved the music.  As a music teacher i get so excited to see the students engaged with the songs and the band.  It was the highlight of Catholic School Week.  The fifth graders were asking when you could come back again.  Not only did the students enjoy themselves but they were also learning about the culture of our country through the music.  Talk about diversity, we had it all in one unit.  Hopefully we will be able to see your next year.  Thank you for giving me your card.  I will keep it for future reference. 
Mary Barringer Villa Duchesne Oak Hill Music Teacher
I have heard the group Fanfare many times, and each time that I hear them they are always good.  Their "journey" from the Big-band era to the present day is a journey of fun.  Kittie does a fantastic job with the vocals, and the group harmonizes so well together.  They know how to engage their audience, no matter the age.  The pace of the program is very good, and the variety of musical selections keep the program moving.
Sister Gail Buckman   Instrumental Director  St. Gabriel the Archangel School